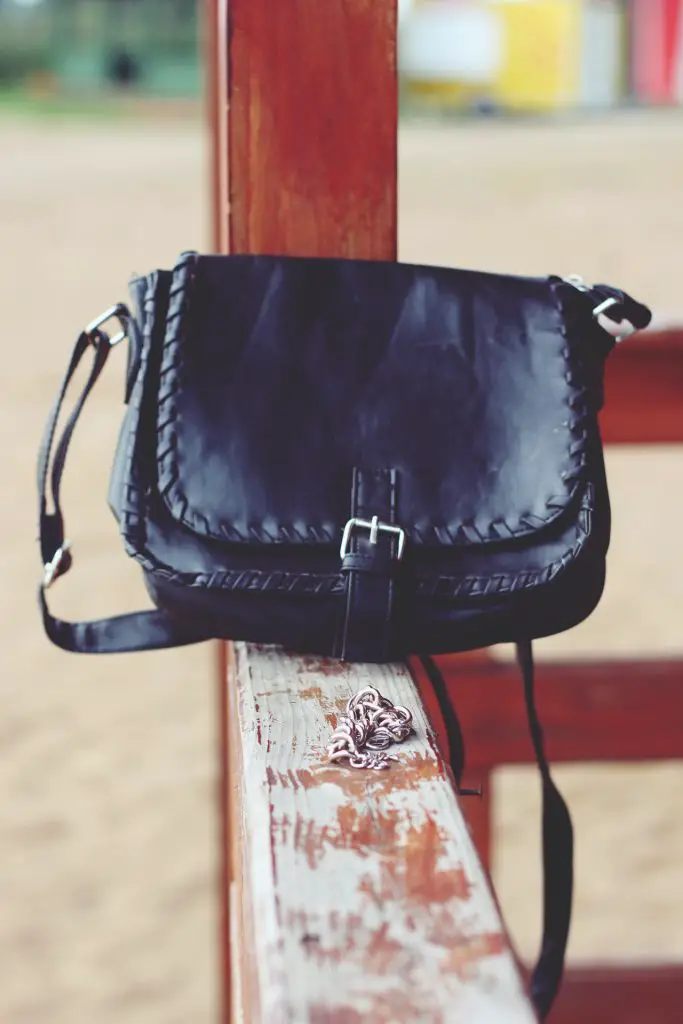 Behind your closet is the stash of old handbags that you cannot decide what to do with.
You cannot throw them out. The black bag just above the pile was your go-to bag through your four years in college. Your first designer bag is also somewhere in there.
We understand you are sentimentally attached to these bags because we've all been there.
When your handbag is old and worn out, you can simply change its purpose. You can use it as a tool bag or shopping bag. Old Handbags can be revamped through creativity into a beautifully designed handbag.
There are a lot of great ways to re-purpose your old, worn-out bags. Read on to find out what to do with old handbags.
What Can You Do About Your Old Handbag?
Here's what to do about your old handbag:
1. Be artistic

2. Turn It to an emergency kit

3. Turn It into a shopping bag

4. Give them out

5. Redecorate and reuse

6. Attach a new strap

7. Sell the bags

8. Turn it Into a diaper bag

9. Make-up kit

10. Gym bag

11. Camera bag

12. You Can Organize Your Files in It

13. Make Sandals Out of It

14. Make designs out of it

15. Design a Pillow Cover
Be Artistic
What does it mean to be artistic?
To be artistic means to engage the creative power of the mind. It involves using creative qualities to produce a unique, beautiful, and outstanding result.
You can discover the hidden artist in you with just some old purses and your wall.
How can you be artistic with your old handbag?
Get some photo frames. Next glue one old purse to the photo frame. Once you are sure they well secured to it, hang it on the wall. It will give your home a peculiarly unique look.
This can also serve as a historical and beautifully designed painting on your wall.
Turn It to an Emergency Kit
Everyone needs an emergency kit in their houses, cars, etc. And what else can do the job most efficiently if not an old handbag?
How do you turn your old handbag to an emergency kit?
To turn your old handbag to an emergency kit, do these:
1. Clean the bag with a towel

2. Grab all your emergency items: paracetamol, aspirin, iodine, cotton wool, glucose, whistles, etc

3. Arrange them neatly in an ordered manner.

4. Place the bag in an open place where it is easy and quick to access.
For a car emergency kit, get your flares, tire iron, snacks, torchlight, and so on. Put them in your old handbag and keep it in the car.
This option has double advantages. You get to re-purpose your old bags. You also get to keep your car's glove compartment clutter-free. 
Turn It into a Shopping Bag
You can transform your bigger old bags into shopping bags. This particular idea may have popped up in your mind once or twice. This is particularly true with totes because they are sturdy and spacious.
They may look really old and faded but they will do a great job of keeping your groceries secured.
Check out this B. Makowsky tote bag.
Prices pulled from the Amazon Product Advertising API on:
Product prices and availability are accurate as of the date/time indicated and are subject to change. Any price and availability information displayed on [relevant Amazon Site(s), as applicable] at the time of purchase will apply to the purchase of this product.
Give Them Out
Your old purse may seem old to you, but to someone else, they may be just like new. If the old purses do not look too worn out, you may consider giving them out.
You could give it to a teenage family member or a teenager in the neighborhood. You can also choose to donate to charity.
Redecorate and Reuse
To redecorate and reuse your old handbag, use these methods:
1. Bedazzling

2. Decoupage

3. Attaching Faux fur

4.Embroidering It

5. Fixing tassels, fake flowers, feather fringe, and buttons
These ideas are really great for DIY enthusiasts. You can turn your old-now-boring bags into a new attention-worthy piece.
There are a lot of options open to you if you decide to redecorate your old purses. Let's briefly discuss some fun ways you can redecorate old purses.
Bedazzle
Transform your old bag into a pretty eye-catch with bedazzling beads. Get as many bedazzling beads as you fancy and attach them to your old purse. Ta-da!
How to Bedazzle an old handbag?–Materials and Equipment Needed
1, Bedazzling beads. You can choose the color, shape, and size you like.

2. Glue Gun. This is used to melt the wax gum. You can alternatively use the blue light of a candle.

3. Wax. This is stick-like and transparent glue.

5. Clean towel
How To Decorate An Old Handbag with Bedazzling Beads?– Basic Steps
Here's how to bedazzle your old handbag:
1. After getting your supplies and equipment ready.

2. Wipe the surface of the handbag with a clean towel and place in on a flat surface or workable area.

3. Fix the wax gum in the glue gun, then switch it on.

4. Pick up a bedazzling bead, pump a small quantity of glue and fix firmly to the handbag.

5. Keep placing the beads on the handbag until it becomes beautiful and the old patches are no longer visible.

6. Afterward, remove any remaining unwanted gum on the handbag
This leaves your old handbag beautiful and refurbished. You may let any little one around you join in. It's a fun project that any kid will enjoy doing.
Attach Faux Fur
What Does Faux Fur Mean?
Faux fur simply refers to fake fur. It is an imitation of animal fur which provides warmth and hair-like texture. It is made from the hairs of alpaca, sheep, etc.
How can I redecorate my old handbag with faux fur?
You can redecorate an old handbag by simply using a strong adhesive to attach faux fur to the bag. You can use any color of your choice as long as it fits the bag.
With faux fur, you can cover up your old bag that no longer has its sheen. This adds more beauty and radiance to your old handbag.
Embroider It
Your old purse can get a unique new look just from embroidery. The embroidery will stand out even more if you add some buttons and beads to the bag.
What do you need to embroider an old handbag?
To embroider an old handbag, you need the following:
1. Embroidery needle

2. Embroidery thread or floss

3. Embroidery Design or pattern of your choice

4. Old handbag

5. Embroidery scissors

6. Measuring tape

7. Embroidery hoop
These materials are readily available in embroidery stores. Machines can also be used to embroider an old handbag. This makes it easier and neater.
What are the embroidery designs suitable for handbags?
The embroidery designs suitable for handbags include:
1. Crewel embroidery

2. Cross stitch embroidery

3. Whitework embroidery.
These designs are subject to the material and type of handbag you want to embroider on. It might be difficult to embroider an old handbag.
Tassels, Fake Flowers, Feather Fringe and Buttons
The point of the redecoration is to make the old purse attractive again, so get creative. Pick any redecorating items of your choice and add them to your handbags.
To redecorate your old handbag with flowers, buttons, jewels, etc. You need a wax gum or Uhu gum, glue gun, mod podge (optional), glitters (optional), paintbrush, and a clean towel.
How To Redecorate an Old handbag with Tassels, Fake Flowers, Feather Fringe and Buttons- Simple Steps
You can decorate an old handbag with tassels, fake flowers, feather fringe, and buttons by doing these:
First, clean the surface of the bag.

Then, arrange your buttons, flowers, tassels, etc. on a table beside you.

Next, using a glue gun or Uhu gum, attach the pieces to the surface of the bag.

Place them at various points on the handbag

Remove the excess unwanted gum on it.

Make a mixture of mod podge and glitters in a small bowl

Add finishing touches to the bag by using a brush to paint it with the mixture.

Afterward, leave to air-dry before using it.
Although you want your bag to become catchy once more, you do not want to go overboard. Stick to one or two redecorating item at a time for one old purse.
You can go with more but only if you must. And when you do, ensure the items are a match. 
Decoupage
What is Decoupage?
Decoupage refers to the process of decorating items with the use of a decoupage paper and glue. Decoupage papers are beautiful and uniquely designed colored paper. They are flexible and water-soluble.
Decoupaging an old handbag requires the use of scissors, decoupage glue preferably mod podge, paintbrush, sandpaper, an old handbag, and decoupage paper.
How can I Decoupage My Old handbag?
Here's how to decoupage your old handbag.
First, use sandpaper to scrape off the other part of the old handbag. This is should be done until the surface of the handbag is smooth

Grab your decoupage paper and wrap it around the handbag to measure it.

Cut out the measurement of the handbag on the decoupage paper.

Then, use a paintbrush to apply the decoupage gun to the handbag as you place the decoupage paper on it.

Next, fold the edges. Straighten them well to avoid mistakes and unsmooth edges.

Afterward, polish and clean with a wax polish. This will help it shine.
This process is very interesting and simple. It gives your old handbag a different and new look.
Video: Decoupage
The video below will show you how to revamp your old purse by decoupaging.
Attach a New Strap
Your handbag may have become useless to you because of a bad strap. In this case, you simply need to attach a new strap.
This should be quite easy to achieve. You may use any fabric or accessory of your choice. Pearls will make an incredibly attractive strap; simply string it together and then attach it to your bag.
Here are some detailed articles you may find useful:
Sell the Bags
You can sell your designer purses and handbags. Mostly those that are still in great shape but no longer appeal to you.
There are lots of online stores that sell used belongings. You may advertise and eventually sell your bags on them.
Turn it Into a Diaper Bag
If you have a baby, you can transform one of your old bags into a diaper bag. Get your baby's diaper supply in the bag. This way, you will always be ready and not feel disorganized.
Make-Up Kit
Your smaller old purses can be used as a makeup bag. You get to carry your makeup around and touch up whenever you want.
Gym Bag
You may consider turning that big old bag into a gym bag. A tote bag will fit this purpose well. You can put in all your gym supplies in them without worrying about space.
Camera Bag
If you are into photography – either as a hobby or professionally – your old handbag can become your camera bag.
The bag may look worn out and old but it's a win-win with this idea. If your expensive camera is in a worn-out bag, no one will give it a second glance.
In a way, you will be avoiding getting robbed.
You Can Organize Your Files in It
Nobody likes carrying a file briefcase; we know we don't. What if we told you that you that your old handbag can be used in place of a file briefcase?
Even if your bag is a little worn out, it still looks better than a big briefcase.
Make Sandals Out of It
Another way to avoid parting with your beloved handbag is by turning it into sandals.
What do you need to make sandals out of an old handbag?
To make sandals out of an old handbag you need the following:
1. Scissors

2. Shoe pad

3. Leather

4. Shoe sole

5. Old handbag

6. Glue and paintbrush

7. Shoe pattern or an old shoe

7. Shoe accessories like buckles, buttons, etc.
How can you make sandals out of an old handbag?
Sandals can be made out of an old handbag by following these procedures:
Turn out the inside of the old handbag and lose the edges with a blade or scissors. Do this carefully so as not to damage the leather
Use your old shoe to draw out a pattern of your shoe size on the shoe pad and sole. The shoe pad should be 1-inch smaller than the shoe sole
Wrap the shoe pad with the old handbag leather. Make sure the edges are well- covered to the back. Then, use glue to hold them together
Cut out the remaining leather of the old handbag into any design of your choice. You can check for designs on the internet
Fix your desired design to the shoe pad with glue
Finally, attach it to the shoe sole firmly. You should do this properly to avoid errors before air-drying.
Not all handbag brands can be used as sandals. You can get more value out of your handbag, even while it is old by making a quality leather sandal from it.
Sewing Kit
Re-purpose your old purse into a sewing kit by storing all your sewing supplies in it.
Tool Carrier
Gather all your frequently used tools and store them in your old bag. Make sure you the bag where it can be reached easily.
Design a Pillow Cover
Turn your old bag to a pillow cover by cutting off the straps. Next stuff it with a pillow and then zip it up.
Ensure that the zipper is placed facing the couch.
Although you can re-purpose your handbag, you want them to remain in prime condition for as long as possible. Check out this article for tips on how to maintain your handbags.
Conclusion
There are a lot of things that you can do with your old handbags. You may come up with even better ideas than the ones we have discussed here.
We hope you find this article helpful.
What to Do With Old Handbags-Related FAQs
How Do You Restore a Faded Leather Handbag?
To restore a faded leather handbag, use a recolouring balm. To apply it, do these:
Clean the leather handbag with water and mild detergent. 
Test the originality of your leather. You can pour a little quantity of water into it. If your leather handbag is real, it will absorb the water. This is necessary so that the recoloring balm does not just stay on it. 
Use a foam pad to apply the balm on the leather. Apply it evenly on the surface of the handbag
Leave to air-dry for 10 minutes
Afterward, use a clean towel to wipe the leather. The towel should come out clean without any stain. This shows that the leather has absorbed the balm completely.
How Do I Fix a Peeling Handbag with Household Items?
A peeling handbag can be fixed with household items like baking soda, vinegar, and leather moisturizer. To repair your peeling handbag with household items, do these:
Clean the surface of the handbag with a mixture of equal parts of water and vinegar. Do not over soak the bag.
Leave it to air-dry for 5 minutes 
Mix water and little baking soda in a bowl. Wipe the bag gently with this mixture.
Apply a moisturizer on the bag. Then allow it to dry properly. 
After drying, the traces of peeling will be hardly noticeable. Other ways to fix a peeling handbag include using a color dye, leather patch, or improvised leather.
Can an Old Handbag be Painted?
An old handbag can be painted. This can be done with a special bag paint made of acrylic materials designed for handbags. Acrylic paints are paints that dry quickly. They are made from pigment suspended in acrylic polymer and are majorly used for artistic works.
To paint an old handbag, get a paintbrush and acrylic paint with the same shade and color of the old handbag. Paint carefully using vertical strokes. Keep painting until all the surfaces and edges of the bag are neatly covered. Leave to air-dry. Afterward, polish with a leather polish to give it a shining look. Painting an old handbag can revive it and make it look new again. 
Where Can I resell Old Handbags?
You can resell your old handbag in retail stores and online marketing sites. Some of these online marketing stores are eBay, Fashionphile, Amazon, Rebag, Verstaires collection, Sandra Semburg, and The realreal. These sites offer amazing services that can help you get real value and returns for the sale of your handbag. 
However, before you sell your old handbag, ensure that it is still in a good position. This will influence the profit. Some designer brands that are still valuable even if they are old include Louis Vuitton, Chanel, Hermes Birkin, Marc Kors, and Coach
How Do You Dispose of Old Leather Bags?
You can dispose of old leather bags by giving them out to family or friends. Authentic leather bags are exceptionally durable and can last for about 15- 20 years without any scratch or peel. They last longer than other handbags because they are made from natural materials.
If your leather bag is old and you are tired of using it, you can resell it to retail stores or online sites. It can also be used for charity. This makes the old handbag useful even as it is old.
How Do You Make an Old Purse Look New?
You can make an old purse look new by following these steps:
Check the strap. If it is worn out, replace it with another one
Scrape off peeling areas on the purse with sandpaper
Grab a leather and measure the purse with it
Cut out the required leather
Place the cut- out leather on the old purse. Wrap it systematically as you rub a quality glue on it
Keep wrapping and gluing until both sides of the old purse are covered. Make sure there is no trace of the old leather on it.
Polish with a wax or leather polish and leave to air-dry.
You can attach some bag accessories like buttons, jewels, or beads to add more beauty to the bag.