There are a few colours of bags that go perfectly with whatever outfit you decide to put on. When choosing an outfit, the colour of the bag you pick out will inform the clothes you wear. So it isn't out of place to ask what colour of handbag goes with everything.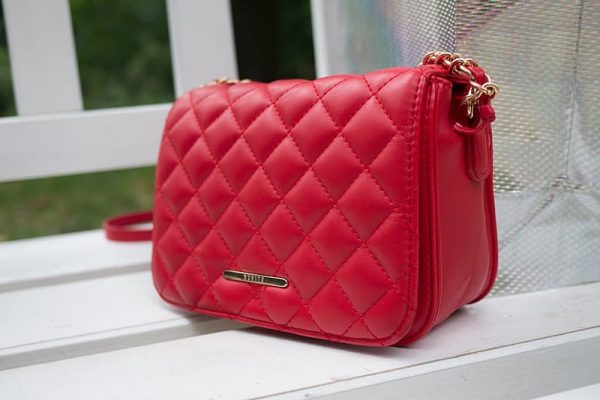 Making a good combination of an outfit with a matching bag gives a beautiful outcome and brings style to your dressing. Picking the right bag is such art but with lots of colours to choose from, you will not have a problem. 
The color of handbag that goes with everything is Black. This is because it is not selective. It blends well with a great number of outfits.
What Bag Colors Are More Selective?
The colors that are more selective are:
1. Yellow

2. Lilac

3. Peach

4. Baby pink

5. Orange

6. Lemon green
Various colors are available to use in matching outfits. On day to day outings, some colors are more versatile and are mostly seen than others. Those are mostly the ones that would not be selective in your outfit.
If you are a fashion freak, you may have a large collection of bag colors in your closet to match different outfits. You may not bother to have all the colors; some essential ones can cover for every outfit or most of them.
Most brightly colored bags are selective colors; only a few go well with outfits. Examples of these colors are baby pink, yellow, lilac and peach. So most people would rather have bag colors that can combine with most of their wardrobe collection.
Women love to have their favorite colors which are mostly bright and homely. Carrying a closer match to this preferred color can comfortably serve in a more official dressing. You could find colors close to these that could top as classic fashion colors that are not the regular dark color.
For example, peach is close to pink and could cover more cloth range than pink would. Having some other feminine color like purple and burgundy. Some darker shade or lighter neutral colors are sometimes better suited, but this depends on the type of outing.
What Colors Can Be Used To Replace Selective Handbag Colors?
Colors that can be used to replace selective handbag colors are:
1. Yellow can be replaced with cream or tangerine color

2. Lilac can be replaced with white or eggshell color

3. Peach can be replaced with nude or tan

4. Baby pink can be replaced with sky blue or peach

5. Orange can be replaced with tangerine or mustard color

6. Lemon green can be replaced with forest green or sea green
Although these may be selective, you could have some of them in your collection, it largely depends on what you want. 
Other neutral colors and dark brown could replace bright shades. A neutral color can be perfect to sustain glam and be a moderate bag piece to carry.
You can be comfortable with the vast array of neutral colors. Purses and clutches with neutral colors go with everything just as bags with the same color would.
These trendy colors are mostly dark shade and will match perfectly with a good number of outfits.
Prices pulled from the Amazon Product Advertising API on:
Product prices and availability are accurate as of the date/time indicated and are subject to change. Any price and availability information displayed on [relevant Amazon Site(s), as applicable] at the time of purchase will apply to the purchase of this product.
What Colour of Handbag Goes with Everything?
The colors of handbag that goes with everything include:
1. Black

2. Nude

3. White

4. Silver

5. Navy-blue

6. Dark brown
Amongst the colors that can be worn with various outfits, black is the most popular bag color that fits any combination.
Aside from black, some other colors are general and may better replace this versatile color. These colors are explained briefly below.
Nude color is gotten from a combination of brown and white. It is a color that could go with almost everything, if not all. There are various shades of nude and beautifully they are non-selective colors. This is because it is close to neutral, closer to white than anything else.  
Tan is very close to nude so it works in almost the same way. It can also be referred to as a nude color. 
Similarly, white is a color your handbag could be in and match anything. But it is not a color everyone is comfortable working with; it tends to get messed up easily. And if it is made with material that easily stains, getting the stains out may be impossible, thereby ruining the bag.
Silver-colored bags can be so beautiful for any outfit, just as much as white. Gray is another color to consider if you are looking for a handbag that goes with everything.
Navy blue, the darkest shade of blue, is another go-to. It is closer to black so may have the ability to fly as black. This is especially true if the bag is leather.
Additionally, very dark brown can go with many outfits. Its earthy tone has the ability to gel with many other colors without clashing.
It is so cool to have different colored bags at your disposal. This is especially true if you usually don't know what color to choose for your outfits. 
Here are some detailed articles you may find useful:
What Are The Factors To Consider When Choosing a Handbag Color?
The factors to consider when choosing a handbag color include:
1. Color

2. Price

3. Quality and brand

4. Wardrobe collection

5. Event or occasion
Color
If you can only afford a few bags, then you should look out for such bags that have general color acceptance. They will serve you better. 
Darker shades of these colors go more with a larger collection. You should always consider what you can be comfortable with before you choose the shade of bag to wear. 
Find colors that could work better with your wardrobe collection. It may save you a lot of time and energy. 
 Price
The prices of handbags vary depending on size, color, quality, and design.
Some handbags are affordable on a low budget while others can be more expensive. You can choose one that suits your needs and matches your budget.
Quality and Brand
When choosing a handbag, lookout for a quality that is durable and long-lasting. This will help you get value for your money.
You can also get classy and trendy designs from Gucci, D&G, Launer, Chanel, Birkin, Louis, Loewe, and so on.
Wardrobe Collection
A wardrobe collection is a box-like frame that consists of items of clothing. It serves as a convenient store for daily wares. Your wardrobe collection tells a lot about your style of dressing.
Generally, dark shades go with different outfits. Some lighter shades will select wears but with some neutral light shades, you are sure to cover most collections in your wardrobe. Gold can generally boost the appearance of dark wear.
Generally, dark shades go with different outfits. Some lighter shades will select wears but with some neutral light shades, you are sure to cover most collections in your wardrobe. Gold can generally boost the appearance of dark wear.
Event or Occasion
The event or occasion can determine the color of your handbag. For official events, it will be best to go for neutral or cool shades of hanbags.
Brighter colors can e used for causal and non-official occasions. What is particularly important is that you feel comfortable.
Video: Choosing the Right Handbag for any Occasion
Learn how to pick the right handbag and the right color for every occasion by watching this video…
Bottom Line
Keep in mind that there is no general rule as to the color of the handbag to carry in order to match. Unless you are particular about it, matching your handbag to your outfit is not a fashion staple anymore.
Just go with what works for you. Keep it simple so you don't ruin your appearance but don't overthink it. It is not rocket science.
Some brands and design ambassadors have frequently exalted production labels and made some bag types more appreciated than others.
If you care about trendy things, then be sure you have a vast array of bags to work with. You can have several of these general colors; having various designs in a color would preserve the bags from wear and tear that comes from constant use.
Brands like Givenchy, Gucci, Chanel, and the likes have continually topped the trend for bag designs and constantly make new designs. But there are cheaper brands you could try. These still give great designs, more so than you would believe.
What Color of Handbag Goes with Everything – Related FAQs
What Color of Handbag is Best?
The best color of handbag is black. This is because it is always in vogue and can be used with a great number of outfits. For ages, black has been a popular color that can be used for every event and season. It is not completely selective at all.
Apart from black, you can also check out colors like:
Nude
Forest green
Dark Brown
White
Red
Mustard
These colors come in light and dark shades and are great for all outfits. 
Does Red Handbag go with Everything?
A red handbag can go with almost everything. Red handbags come in different shades like burgundy, crimson, wine-red, terra-cotta red, pepper red, scarlet, cerise, magenta, and ruby. This makes it truly suitable for white, black, blue, grey, green, yellow, and brown outfits. 
Sometimes, it might not blend with some shades of yellow and orange. This is because it is a primary color. Red handbags can be exceptionally beautiful and classy. However, this depends on the shade of red you decide to use.
What is the Most Versatile Handbag Color?
The most versatile handbag colors are black and brown. These colors come in handy and in different shades. These could be carbon black, charcoal black, jet black, chocolate, dark brown, beige, beaver, cocoa brown, chestnut,  red-black, or vanta black. 
They are readily available in the forms of purse, clutches, and bags. They come in big and small sizes depending on your choice.
Getting a handbag is a worthy investment. You can choose a black or preferably a brown handbag. They are classy, suitable, and trendy. They will match all outfits, events, and seasons.
What are the Universal Colors of Handbags That Will Suit Everyone?
The universal colors of handbags that will suit everyone include:
White
Purple
Tan or Nude
Teal
White
White is a light color that comes in different shades of milk, cream, ivory, snow, and sometimes eggshell. 
It is a bright color that can blend with every kind of outfit and skin. White handbags are not selective but easily get dirty most times. 
Purple
Purple is a combination of red and blue. It produces shades of lilac, violet, light purple, as well as dark purple. 
Purple handbags can go well with white, grey, black, and brown outfits. This depends on the shades and your choice.
Tan or Nude
Tan and nude colors are closely related to each other. They are neutral colors that can be combined with a great number of outfits.
They are made from a combination of brown and yellow.
Teal
Teal is a universal color that is blueish-green. It is closely related to turquoise. A teal handbag will blend well with white, grey, black, or red.  
Does Tan Handbag go with Everything?
 A tan handbag is great for most outfits. It is a neutral and trendy color. It blends amazingly with black, navy blue, red, green, as well as brown. Tan handbags are available in about fifty different shades. Some shades are darker while others are lighter. 
Tan handbags can be used mostly during summer. It does not retain heat like black handbags. Unlike other colors, it is cool and fun to use. You can use a tan handbag if you want to appear classy with sauce and style.
Should Your Handbag Match Your Shoes?
Your handbag should not match your shoes on all occasions. This is not a rule or guideline. However, the color of your handbag and shoes should complement each other. This is important so that there will be no fuss in your appearance. You should always go for colors that can blend and are compatible.
They may not necessarily be the same pattern or design, but they look good together. Also, on some occasions or events, you can decide to wear accessories like earrings or jewels with a similar color of the shoes and handbag.