You may have wondered how to organize handbags you own in such a way that they're easy for you to grab on your way out while maintaining the pretty display in your closet.
We spent time researching on the best ways to arrange your bags, considering the fact that not everyone has lots of space to spare and keeping aesthetics in mind.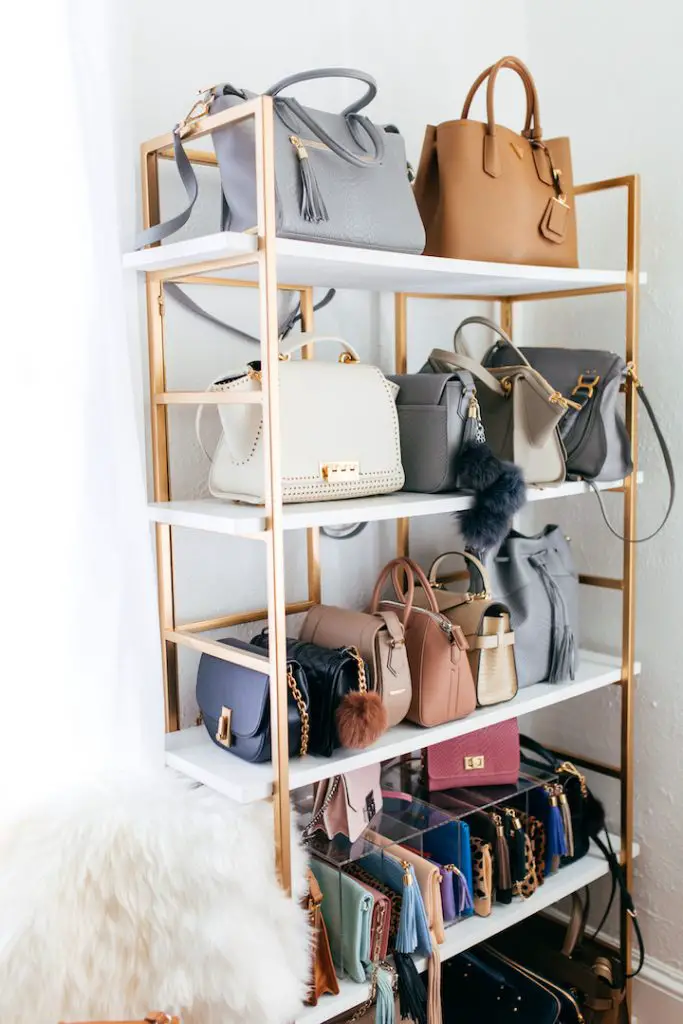 Your bags could be in your closet or outside the closet and there are various ways to achieve perfect organization of your handbags, purses and clutches.
How To Organize Handbags- Materials Needed
To organize your handbags, you need the following
1. Shelf or cabinet

2. Hooks

3. Cubie

4. Transparent divider

5. Hook line

6. Bag Hanger or Handbag organizer
How To Organize Handbags – 8 Simple Ideas
Here are some ideas on how to organize handbags in eight(8) simple ways.
1. Stack your handbags on shelves

2. Organize your handbags according to color

3. Arrange your bags according to their sizes

4. Arrange bags according to need

5. Fill bags up to make them look good on the shelves

6. Add hooks for tote bags to your closet or room

7. Store your bags in translucent plastics or cabinets

8. Store your bags in translucent plastics or cabinets

9. Hang bags on your floor mirror or on curtain rails
These ways will be explained in detail below as you read on.
Stack Your Handbags on Shelves
You can stack your handbags on shelves in your closet. What's more?
How Do You Organize Handbags on a Shelf?
You can organize handbags on a shelf by following these steps
First, clean and clear the shelf to create enough space for your bags

Make compartments or cubbies with a transparent room divider

Next, sort out the handbags

Afterward, shelve the bags you use more often within reach, and those you use less often higher up.

You can also shelve the bags vertically, side by side if you're pressed for space, or use demarcations on your organizer to shelve each bag if you've got lots of space to spare.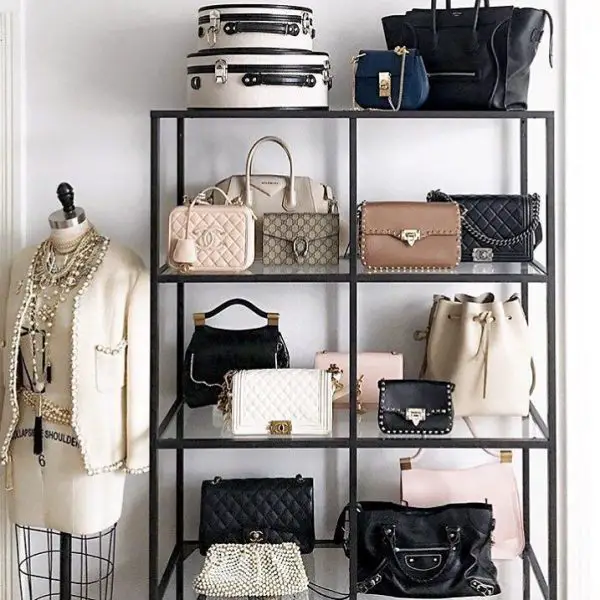 Organize Your Handbags According to Color
Should You Organize Your Handbags by Color?
You should organize your handbags by color. This will make it easier and faster to pick them up when you intend to use them. It will give your bag shelf a beautiful and organized look.
If you own a lot of bags and you're the type who loves your colors to always align, you can stack your handbags according to their colors. This also makes it easy for you to pick out a bag to match the color of your outfit.
What Color Order Should I Organize my Handbags?
You should organize your handbags in the order of light colors to dark colors. You can also use the ROYGBIV (R- red, O-orange, Y-yellow, G-Green, B-Blue, I- Indigo, and V- Violet) order. These are primary colors that come in different shades. This will give your handbag shelf a rainbow look.
There is no-one-rule-is-final on how to arrange your handbags according to color. However, the beauty of the display is very important.
Arrange Your Bags According to Their Sizes
How Do You Arrange Handbags According to Their Sizes?
You can arrange handbags according to their sizes by having the big bags stacked together and the smaller ones stacked separately. If you need to maximize space, you can have them all stacked together, arranging them from the biggest bag to the smallest purse.
If you don't care about the color arrangement, you can arrange your bags according to their sizes.
Arrange Bags According to Need
You can decide to arrange your everyday bags and work bags together and make them easily accessible, while bags for special occasions can be kept further away. This just makes it easy for you to grab a bag when you're in a rush and keep it moving.
Video: 10 Handbag Storage Ideas
This video will take you through more handbag storage ideas to suit your closet.
Fill Bags Up to Make Them Look Good on the Shelves
Ever wonder why bag stores always fill up bags for sale with stuff? This is exactly why: sometimes, when empty bags are stacked or displayed, they can look really sad and unaesthetic.
What is The Importance Of Filling Up a Bag Before Storing Them?
Filling up a bag before storing is important to make the bag retain its shape and structure. It can provide support for the handbag. This prevents it from peeling, slacking, and sagging.
What Can Be Used to Fill Up a Handbag?
A Handbag can be filled up with the following.
1. Tissue paper

2. T-shirts

3. Dustbags

4. Chopping mat

6. Paper towels

7. Smaller handbags

8. Light fabric
So if you're particular about your bags looking good on the shelves, you can try filling them up to keep them looking good.

Add Hooks for Tote Bags to Your Closet or Room
If you have space, you can attach hooks for hanging tote bags on the sides of your shelves in your closet. Otherwise, hooks can be added to walls of your closet or at the back of the door to your closet to hang tote bags and other bags. And these can be lined up to maximize space.
What Do You Use To Hang a Hook on a Wall?
To hang a hook on a wall, you can use a screw and a driller. A driller is used to make the holes, while the screw is used to hold the hook to the wall firmly. Also, a hammer can be used to punch the screw into the wall. In recent times, magnetic bag hooks are now available. This saves you from the stress of punching the wall.
Furthermore, you can hang your bags on both sides of your closet door to save even more space. Totes can also be arranged along rods within your closet or room, or in your wardrobe as the case may be.
Is it Bad To Hang Handbags?
It is not bad to hang handbags provided it is for a short while. This is because it creates space and easiness to reach your bag for everyday use. However, hanging a bag for too long will damage the strap or handle. For long storage, it is advisable to remove the strap. Fold it neatly into the handbag and store it in your closet.
There are several bag organizers that can also allow you to store your bags vertically and save space.
Store Your Bags in Translucent Plastics or Cabinets
Another way to store your handbags while optimizing space in your closet or room includes storing bags in plastic containers.
Is It Okay To Store Handbags In Plastic Containers?
It is okay to store handbags in plastic containers. Plastic containers can be used to store bags for a long period of time. It prevents it from dust and exposures that can affect the durability of the handbag. Make sure the bag is properly placed and filled up before storing it.
It helps for these containers to be translucent so you can see what bags are in there so you can pick a bag for the day without even opening the translucent bag container.
Hang Bags on Your Floor Mirror or on Curtain Rails
More places to hang handbags include the sides of floor mirrors and by your curtain rails.
How Do You Hang Handbags on a Curtain Rail?
You can hang handbags on a curtain rail by using an S-hook. This is done by fixing the S-hook on the curtain rail firmly. Afterward, place your handbag on the outer curve of the S-hook. This gives your handbags a well-organized arrangement.
You can also hang your bags on your shower curtains or build knobs into your door for bag storage. These are good options to apply when your closet is full and you need more space to fit in bags and purses to keep them organized.
Here are some detailed articles you may find useful:
Clutches, Purses and Other Small Bags
What is the Difference Between a Handbag and a Purse?
The difference between a handbag and a purse is size. A Handbag is larger in size when compared to a purse. It can be used more items and accessories than a purse. A purse is, therefore, a small handbag.
How Do You Store Clutches and Purses?
Clutches and purses can be stored by keeping them in trays which could be transparent or could go with the theme color of your closet. You could also build shelves and baskets into your closet or room doors or keep them in racks.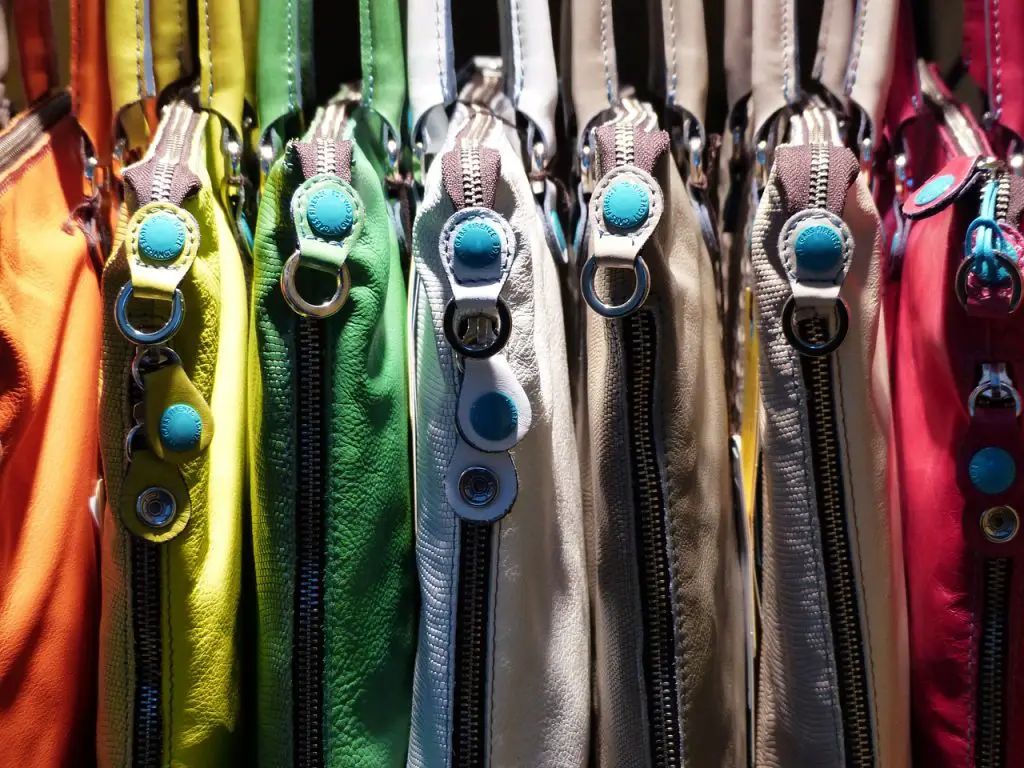 Magazine files can be used to store slim, small clutches; you can make hooks under your shelves to hang some bags and they can also hang on the racks for coats within your closet. Storage bins and cubbies can equally be used for storing purses, clutches, and other small-sized bags, especially if you have some space to spare.
Prices pulled from the Amazon Product Advertising API on:
Product prices and availability are accurate as of the date/time indicated and are subject to change. Any price and availability information displayed on [relevant Amazon Site(s), as applicable] at the time of purchase will apply to the purchase of this product.
These are all ways by which you can keep your bags within reach, save space while keeping them well organized.
Handbags are accessories we cannot afford to overlook. Every lady has handbags, ranging from a few to a lot but you can still have them organized no matter the number.
Knowing how to store all of them while maintaining the beauty of your personal closet is so important. Therefore, it's time to get busy with organizing your handbags. Apply the handbag storage ideas above to get that perfect closet display you always wanted.
How To Organize Handbags—Related FAQs
How Do You Organize Your Handbag in a Small Place?
You can organize your handbag in a small space by using a hook. It provides an effective means of managing a small place to organize your handbags. It comes in different shapes, sizes, and designs. 
Hooks can be affixed or attached to surfaces like wood, metal, concrete, or plastic. The different types of hooks include S-hook, L- styled hook, closed spring bracelet style, the twisted ring style, and link type.
To use a magnetic hook, place it on a plain surface, adjust it, and fix your handbag. Wall hooks are also available. You can also put purses inside a large handbag.
How Do You Organize Expensive Designer Bags?
To organize expensive designer bags, do these:
Get a handbag shelf with cubbies
Remove the designer handbag from its dustbag
Fold the dust bag and place it in on the cubie. This will prevent the handbag from having direct contact with it
If the bag has a strap or chain handle, fold it carefully into the bag
Secure the metal edges of the handbag with tissue papers
Place the bag in the cubie. Ensure that it is not touching any other bag or rough surface.
Designer bags last longer if handled and maintained properly. You can decide to stuff the bag before placing it in the cubie.
Should You Keep Handbags in Dust Bags?
You should keep your handbags in dust if there is limited space to them. Dust bags are usually used to package handbags while purchasing them. They can also be used to protect the handbag from dust. However, handbags should not be left in dust bags for a long period.
Dustbags can generate heat if they are not breathable. As a result, this can damage the fabric or leather used to manufacture handbags.
A more advisable way to use dust bags for handbags is to wrap it around the handbag before stacking it on a shelf. This allows the inflow of air in and around the handbag.
How Do I Organize My Handbags in My Wardrobe?
To organize your handbags in your wardrobe, do the following:
Rearrange the wardrobe to create enough space for your handbags. Check the open walls, back of the wardrobe door, or the top for a convenient space.
Sort out the bags by color, size, and need.
Place the less frequently used or occasional handbags behind. You can decide to use a hook or a plastic translucent bag.
Afterward, arrange the frequently used or everyday handbags where they can be easily reached.
Ensure that the handbags are placed spaciously and in a good position to prevent them from peeling, sagging, or switching.
The proper organization of handbags in a wardrobe gives them a more beautiful and classic array. 
How Do You Organize Reusable Grocery Bags? 
You can organize reusable grocery bags by following these steps:
Remove all the items inside it 
Place it on a flat surface and straighten it
Make sure the edges are rightly folded to the original shape it was when it was purchased
Fold into equal parts from right to left
Fold again from the bottom to the top. This gives it an equal square-shaped bag. 
Do this for all your grocery bags and store them where they can be easily reached whenever you need them. These steps can also be used to organize tote and shopping bags. It is a simple method of handling grocery bags after use.
How Do I Keep My Handbag from Slouching While Organizing It?
You can keep your handbag from slouching by fixing a bag base or bag inserts inside it. This will help the handbag to maintain its shape and structure.
To make a bag base, do these:
Measure the length and width of the base of your handbag with a ruler or measuring tape.
Draw the measurement on a strong carton paper with a pencil or marker.
Cut out the carton paper in two or three pieces. This should be the shape of the base.
Fix it into the bag to check if it fits.
Use masking tape to join the carton pieces together. 
Place it in your handbag.