You may have gone handbag shopping and didn't see what you want so it's made you want to design your own bag. Or you plan to start a handbag designing business. It could also be that you want to change the designs of the current handbags in your handbag storage. Whatever the reason you want to learn how to design handbags, it is definitely doable.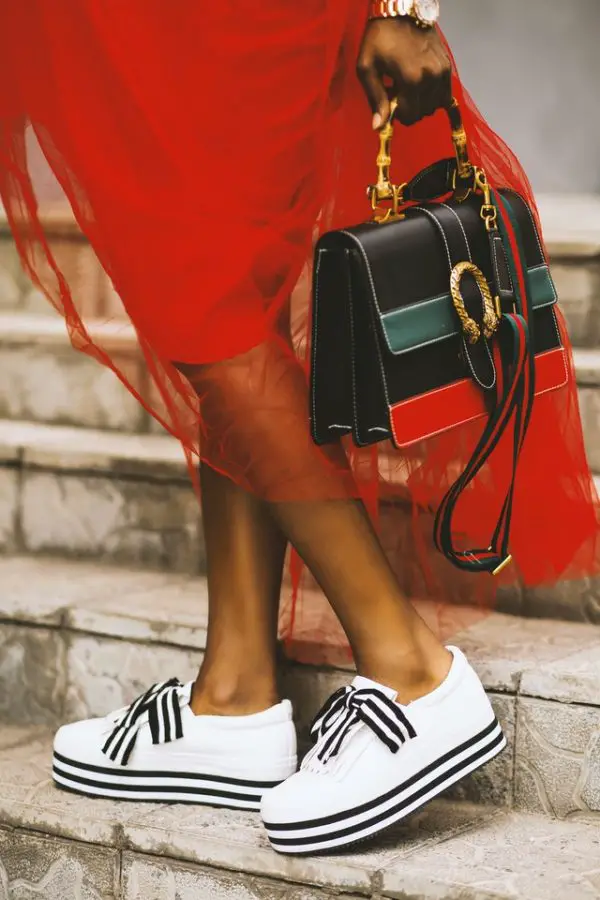 Learning how to design your bags can help you save lots of money. What's more? Once you master the art of designing your bags, that is pretty much all you need to go on and start making your own bags.
What Are the Factors To Consider Before Designing a Bag?
The factors to consider before designing a bag include:
1. Purpose

2. Size

3. Material or Fabric

4. Pattern
Purpose
What is the Purpose of a Handbag?
A handbag is a handheld portable bag that is used to carry items needed for personal use. These items are pen, book, reading glasses, make-up, handkerchief, and money. These items are essential.
Before designing a handbag, put into consideration, the type of occasion you need the bag for. Do you need a bag for shopping or as a fashion accessory? Where will you be carrying the bag to? This will help you decide on what you will need and the quantity you'll need for the design.
Size
Decide on how large or small your bag should be; you could make a mental note of the items you need to fit into the bag.
How Do You Measure a Handbag?
You can measure a handbag by using a measuring tape to measure the length width, and height. Measure the length of the front of the handbag from left to right. Measure the width or side of the handbag from back to front. Measure the height of the handbag from top to bottom. This gives you an accurate measurement of the handbag.
You can choose to design a small, medium, cabin, compact, or large handbag. This will influence the shape and the uses of the handbag.
Material and Fabric
What Material is Used for Handbags?
The material used for handbags is leather. Other materials like faux fur, cowhide, fabrics can also be used. With the advent of technological advancement, synthetic polymer or leather can be used to replace natural leather. It comes in different colors and qualities.
Put into consideration the material or fabric you intend to use for designing before you start. This will determine the incurred cost. High- quality materials are more expensive and durable than those of low quality. Based on your budget choose a material that will produce a unique and beautifully designed budget.
Pattern
This involves drawing a sketch of your design before you start designing the handbag. This gives you an overview of the intending design of the handbag.
How Do You Draft a Bag Pattern?
You can draft a bag pattern by following these steps:
1. Get a plotter or manilla sewing paper, pencil, ruler, and measuring tape

2. Place the sewing paper on a flat surface or workable area

3. Fold it into equal parts and measure the length from left to right. With a ruler and pencil, mark the points

4. Measure the height from top to bottom also. At this point, you can cut out design at the top of the bag

4. Fold another piece of sewing paper, measure the width from back to front. This forms the side of the bag. It should be the same height as the bag

6. Cut out the base or bottom of the bag from another sewing paper. It can be square-shaped or circular. This depends on your design

7. With all the parts of the handbag cut-out, fix them together with a sewing machine, safety pins, or glue.
Drawing a design pattern serves as a prototype of the actual handbag. With the pattern, you will be able to get accurate measurements and avoid mistakes while designing your handbag.
You may need a designer to help you with what you have in mind or you could sit back and sketch your dream bag yourself. And if you are skilled with the use of sewing machines, you already have half of what you need. If not, you could get someone else to do the sewing for you.
Nine West Coralia Me Time Satchel Jet Black One Size
Make a statement with this gorgeous Nine West Coralia Me Time Satchel Jet handbag. Made of strong leather to last you a long time.

Has a detachable long crossbody strap and two carry handles. Crossbody strap has chain detail.

Beautiful design. Exterior shows detail of brand.

Slip pockets and zipper pockets included as lined interior features. Contains two of both.

Imported. Measurements: Bottom Width: 11 1⁄2 in Depth: 5 1⁄2 in Height: 10 in Strap Length: 40 in Strap Drop: 18 1⁄4 in Handle Length: 16 3⁄4 in Handle Drop: 5 1⁄2 in Weight: 2 lbs
How To Design Handbags- Basic Steps
To design a handbag, do these:
1. Get inspired

2. Get the materials- fabric, sewing machine, metal chain, embellishments, etc.

3. Make a plan for the handbag. This includes size, color, etc.

4. Start sewing your handbag.
Get Inspired
How Do You Get Ideas To Design a Handbag?
You can get ideas to design a handbag from:
1. Fashion magazines

2. Window shopping. You can check out new, classy, and trendy designs from a handbag store.

3. Internet and social media

4. Antique malls and fairs

5. Lifestyle, home, and celebrity magazines

6. Visit a fashion designer to ask for ideas
Find inspiration for your dream bag. You could start off by looking in fashion magazines to have an idea of what you might need. You may also go around and do some window shopping just to see what's around and draw some inspiration.
Social media such as Instagram, Facebook and the likes can help you view even more designs to help make your decision. Search for handbag hashtags and you should see some styles. Eliminate and add the styles you've seen to your sketch as you wish.
Antique malls and fairs could give you a variety of bags to look at and you may like a style or two. You can buy a bag that you fancy and take some designs from it into the bag you desire. If you would rather not buy a bag, you can ask friends or family for an old discarded bag. You can use it as a canvas for your new bag.
Antique malls sell bags that have lasted for ages. These handbag are treasured historical pieces that still have immense value.
What is Considered as a Vintage Handbag?
A vintage handbag is a bag that has lasted for more than 20 years after its manufacture. It is a bag that still holds value and importance after a long time. A vintage handbag is not the same as a used bag.
Lifestyle, home magazines and celebrity magazines are more examples of places you are highly likely to find handbag styles that may pique your interest.
Do not restrict yourself to just new fashion magazines. Older ones may have that unique, classy style you may like. Remember how fashion always comes back around? You just might be bringing a trend back!
Feel free to ask around for what works in the process of designing bags, and what doesn't. Visit a fashion designer who designs bags if you need to. Ask a question or two if you see someone carrying a handbag that you fancy. These are ways to get tips for a beautifully sewn bag.
Video: How to Make a Leather Bag
Watch this video to learn how to make a simple leather bag.
What Do You Need To Design a Handbag
The materials you need to design a handbag include:
1. Fabric or leather

2. Sewing machine

3. A pair of scissors

4. Embellishments

5. Interface

6. Metal chain (optional)
Your materials will majorly depend on your design, choice of fabric, and all the other specifics. These materials will be explained in detail below:
Fabric
This could be leather, silk, velvet,or any other material of your choice.
Which fabric is best for bags?
The best fabric for bags is:
1. Canvas, twill, suede, cashmere is best for tote and shopping bags

2. Cotton, flannel, Crepe is best for hobo bags

3. Velvet, chiffon, damask, suede, and chenille is best for clutches and evening bags

4. Leather or synthetic polymer, sturdy fabric is best for crossbody bags

5. Leather, cowhide, and faux fur is best for shoulder bags
Sewing Machine
Certain sewing machines cannot properly sew some materials such as leather. Be sure to check your sewing machine to know what it can sew before purchasing your fabric.
Can You Use a Regular Sewing Machine for Leather?
You can use a regular sewing machine for leather. What you need to do is to make some adjustments to the settings of the sewing machine. Change the presser foot of the sewing machine to Teflon foot, replace the needle with a strong leather needle, adjust the sewing length, and use a leather thread.
This should be sharp and easy to work with.
Embellishments
This refers to decorating bags with ornaments, jewels, buttons, etc.
How Do You Embellish a Bag?
You can embellish a bag by following these steps:
1. Clean the surface of the bag.

2. Arrange your buttons, jewels, beads, etc. on a table beside you.

3. Using a glue gun or Uhu gum, attach the pieces to the surface of the bag.

4. Place them at various points on the handbag

5. Remove the excess unwanted gum on it.

6. Leave to air-dry before using it.
You can add finishing touches to the bag by using a mixture of glitters and mod podge or any glue to paint the handbag.
Interface
What is Interface in Handbags?
An interface is a sticky light material that is used to make a handbag thicker. It serves as a lining inside it. It is attached to the fabric of a handbag by ironing
Metal chain
You can use a metal chain, if you prefer that for your strap.
This is used to measure the length, width, and height of the handbag. Accurate measurement of the handbag will give you a perfect handbag design.
TIBES Leather Women Purses and Handbags Ladies Fashion Top Handle Satchel Shoulder Totes Bags
The Fashion top handle satchel shoulder totes bags is made of high quality material . It is durable and waterproof. Supreme polyester was used to make the lining of the bag. Leather quality ensures that creases arent left on the bag after shipping and handling. The Satchel bags have no chemical odor.

Choice of carriage: The Fashion top handle satchel shoulder tote bag gives you the option of carrying the bag as a handbag and also linking the belt to turn it into a shoulder bag. Comes with an adjustable and removable long shoulder strap.

The separate compartments in the bag will help you keep your things well organized. Th two zippers located on top will keep your items from falling out. Pockets and zipper compartments inside the bag give you more space to keep things. Big capacity of the bag can take an ipad, boks, cosmetics and other stuff you need. Best way to keep your items without stresing your hands.

Perfect Carry Size: The overall size of the satchel tote bag is 11*5.1*7.9in(L*W*H) handle length: 5.5in. Perfect size for you to carry. The lightweight tote handbag for women will not take up space meant for your items.

Carry to most types of occasions. Stylish design is suited for most women. Can be used for traveling, camping, business or school, shopping and daily outing use. Gift this handbag to anyone and theyll absolutely love it.
Here are some detailed articles you may find useful:
Plan for Your New Handbag
To design a new handbag, plan for the following.
1. Size of your bag

2. Color of the bag

3. The shape of the bag

4. Choose your fabric

5. Decide on the extras
Size of Your Bag
Plan for the size you want for your bag depending on what you intend to use your bag for, how much material you have and even factors like your frame. If you have a small frame, a big handbag will accentuate your frame. If you don't mind, then go ahead and make a big bag. Otherwise, stick to a purse or small bag.
If you intend to carry lots of stuff in your handbag, you should be looking to make a big bag and of course, buy more material – or have more material for your bag.
If your reason for wanting to design a bag is to have something for date nights or parties, you should be leaning towards making a small bag or purse.
Color of Your Bag
Choose a color for your bag, bearing in mind how the colors you choose will affect the overall outlook of your bag. Pick browns or blacks if you're looking to own a bag that will go with pretty much anything. Bright colors are great if you're looking to rock that modern look.  Pink, in its various shades, goes well for that girlish look. Dark blues and greens will also offer that mature look if paired with neutral colors.
Bear in mind that your overall look with your bag will also depend largely on what you wear, especially the colors of your outfit. Be sure to pair up your bag with matching outfits for whatever look you're looking to serve.
Shape of Your Bag
Consider heading to a shop or mall and carrying bags with several shapes to see what works for you. The shape of a handbag is influenced by the style of the handbag.
What are the Different Styles of Handbags?
The different styles of handbags are:
1. Clutch or Evening Bag. This bag is usually small and classy.

2. Hobo Bag. It comes in the shape of a bindle that can be hung on the shoulder.

3. Tote Bag. It is a simple bag made of fabric or leather. It also comes in the form of shopping bags

4. Crossbody Bag. This is a bag with a long strap that can be worn diagonally across the body.

5. Satchel. It is majorly used to carry books. It has a long strap and short handle

6. Shoulder Bag. It is a bag that has a short handle and can be worn on the shoulder or held with the arm.
For small bags or purses, consider a clutch or an envelope shape. Bigger bags, however, will look good in a bucket, duffle, or hobo shape.
Choosing Your Fabric
Fabric for your bag is going to be the single most important determinant of the price of materials for your bag. The more pricey and exotic leather bags will look great but may be hard to find.
One thing you should bear in mind, however, is that the top grade, expensive leather bags will last you long. They will also give you the option of dyeing the leather. Patterns can be featured on your leather bag, too. All in all, leather bags will give you a variety of applicable ideas for your bag.
You may use silk or velvet, though these are not common options. Canvas is another option that is applicable for use in the larger bags.
It is important to test your fabric by sewing a few pieces to see if your sewing machine can sew the fabric properly and if your fabric holds nicely after sewing with your machine.
Decide on the Extras
Decide on what embellishments you want to add to make your bag pop. You will need to make a decision on the type of strap you want to add, if you fancy putting one. Would you like a long or short metal chain for your bag? Do you want your strap made with the same fabric as your handbag? Would you prefer no handles? These are questions you need to answer and which will determine the aesthetics of your bag.
Decide also on the type of closure you want. Do you want to use buttons, zippers or some other type of closure? This decision will depend on what is convenient for you and your fashion needs and inspiration.
Beading, sequins, tassels,and studs are a few more extras that can beautify your bag.
Start Sewing Your Handbag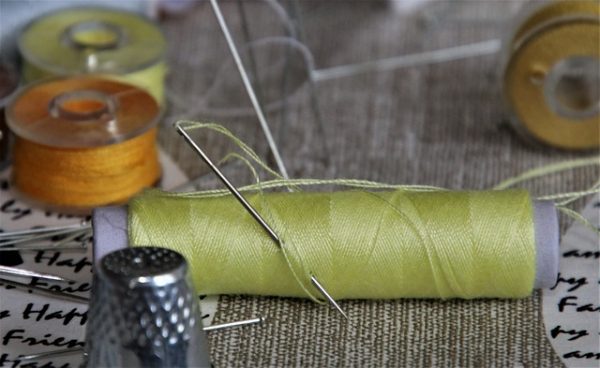 Get the pieces of your handbag together, think of a pattern then start to sew. Add any extra embellishments with your hand where necessary.
How Do You Sew Handbags?
To sew a handbag, do these:
Draw out your pattern on a sewing paper and cut it out neatly
Grab your fabric and cut it using the patterns. Ensure you do not make mistakes
Arrange the different parts of the handbag- the back, front, and flap.
Next, measure and mark the points for the magnetic hook on the front and flap and fix it.
Sew the flap and back together
Afterward, attach a zip to front and back parts of the handbag
Sew the sides and bottom of the handbag
Fix embellishments like beads, buttons, flowers, etc.
If you are not satisfied with the finished look of your bag, it's okay to take it to a good designer to perfect the look and give it that professional finish.
How to Design a Handbag—Related FAQs
How Do You Make a Simple Shopping Bag?
To make a simple shopping bag, do these:
Get a fabric (such as cotton), scissors, ruler, and pencil.
Measure your desired size
Cut out the different parts of the bag
Cut out the interface or lining
Sew the fabric into the shape of the desired handbag
Sew the interface or lining. It is should be 1- inch lesser than the fabric measurement
Hem the strap and attach it to the top of the lining or interface
Put it inside the bag and sew the top side of the bag.
To make your shopping bag stronger, use a sturdy fabric or quilt cotton. 
How Do You Design a Leather Bag?
You can design a leather bag by following these simple steps:
Bear in mind the purpose for the bag. It could be for evening outings or work.
Look for beautiful leather design ideas on the internet.
Get your materials and equipment ready.
Use a sewing paper to draw out your pattern and design.
Measure the sewing paper with the exact measurement you intend to use.
Cut out the pattern.
Place it on the leather and cut.
Sew the parts of the bag together with a sewing machine.
You should know that not all sewing machines can be used to sew leather because of their nature.
Can You Design a Handbag with Dye?
You can design a handbag with dye. Handbags can be arrayed in beautiful colors with the use of dye. This is because some handbags can absorb liquid.
Fabric handbags can be easily dyed. They are made from cloth materials. This makes them suitable for dyeing.
To dye a fabric handbag, get a soluble and water-proof dye. Mix it with little water, then paint the fabric handbag with the dye. Ensure that the dye is absorbed completely into the handbag. Leave for 5 minutes, then use a clean towel to wipe off till no stain comes out.
You should use a dye of good quality to make your handbag last longer.
How Do You Re-design a Handbag?
You can re-design a handbag by doing these:
Pick a plain color of handbag you like.
Choose a style or design pattern.
Get ideas on a variety of designs from window-shopping in a handbag store or online.
Purchase the bag accessories you need to make the design. Consider the kind of bag inorder to get suitable accessories for it.
Get a glue suitable to attach the details or designs on your handbag. This should be done carefully to avoid mistakes and rough design.
Re-designing a handbag adds more beauty and style to it.  
How Do You Design a Handbag with a Scarf?
To design a handbag with a scarf, follow these steps:
Get a small silk, square-shaped, and colorful scarf. The color should be related to the color of the handbag
Place the scarf on a flat surface and fold in the two edges to form the shape of a kite
Put one end into the handle of the handbag
Hold it tight and twist until it becomes a straight twisted rope
Fold in circular motions to form a rose 
Insert the other end into the same handle of the bag. Make sure it is properly tied
Stretch the tails of the scarf to form leaves.
Your handbag takes a new, trendy, and classy look.
How Do You Design a Crossbody Bag?
To design a crossbody bag, follow these simple steps:
Fold and cut out your fabric into two equal square shapes.
Turn the top edges inside and fix D-rings. This will serve as the strap of the bag.
Cut out the different parts of the bag.
Cut out the interface or lining.
Sew the material and the lining into the shape of the desired handbag.
Fix a zip at the front of the bag. 
Attach the D-rings tab to the edge of the handbag and sew 1-inch away from the sides.
Turn to the outer part to make finishing touches and fix the strap.